WELCOME TO CENTER FOR PROFESSIONAL DEVELOPMENT:
Excellence in interprofessional education: CPD programs are designed to be interdisciplinary, with cross-functional appeal to a diverse group of professionals. We serve educators, civil society, clinicians, techies, small business owners, social change advocates, and organizations wanting to develop & deliver innovative professional development for their teams.
We are a committed team of business, management and organizational development professionals dedicated to optimizing our clients' business relationships in order for them to powerfully and efficiently achieve their corporate goals. We work in collaboration with a team of colleagues to deliver services to clients in the in all sectors supporting them in creating successful 21st-century organizations that are:
profitable and productive
adaptive to and highly successful in managing change
self-correcting, flexible, intelligent, integrated
socially and environmentally responsible
CPD's approach has established itself based on the principle that effective partnership between people provides the basis for achieving extraordinary business results. Our focus is on strategy development and alignment, leadership, management and employee development, organizational structure design and culture enhancement, and change management.
CPD's expertise is targeted at ensuring that the people architecture of a company supports the strategy, goals, and objectives of that company. Since all organizations and cultures are products of how the members think and interact with one another, we have developed our expertise to directly address the building of corporate cultures that enable organizations to be more profitable, more productive, more adaptive, more self-correcting, and more flexible. The result is that the individuals who make up the companies emerge from our programs and coaching making wiser systemic decisions that directly impact the companies' ability to accomplish their strategic goals.
To build these quality cultures, we promote sustainable change that increases productivity via improved human resource performance in the following four key areas:
Strategy, Leadership, Team Development and collaboration
For organizations to grow so must their people. Commitment to continuing professional development and 21st century skills is the mark of those looking to the future realities of the local and globalized economy. We understand this.
We have developed cutting edge content in our centres of excellence and adapt it to meet local aspirations.
Our unique training methodology puts learning and learners at the centre of everything we do. The approach is practical, experiential and highly enjoyable ensuring maximum benefit in the workplace.
Our team is highly experienced both locally and internationally. We look for, recruit and develop only the best practitioners available. As well as qualifications and accreditation they have expertise garnered from a rich variety of organizational backgrounds and roles.
Join our public workshops, all listed in this catalogue, and benefit from valuable opportunities to share your training and network with learners from a wide range of sectors. Alternatively, have a workshop customized to your company's needs by our team of well-qualified and experienced trainers and content writers worldwide. This approach works well for organizations that want to train their people together with content tailored meet your workplace or industry's specific needs.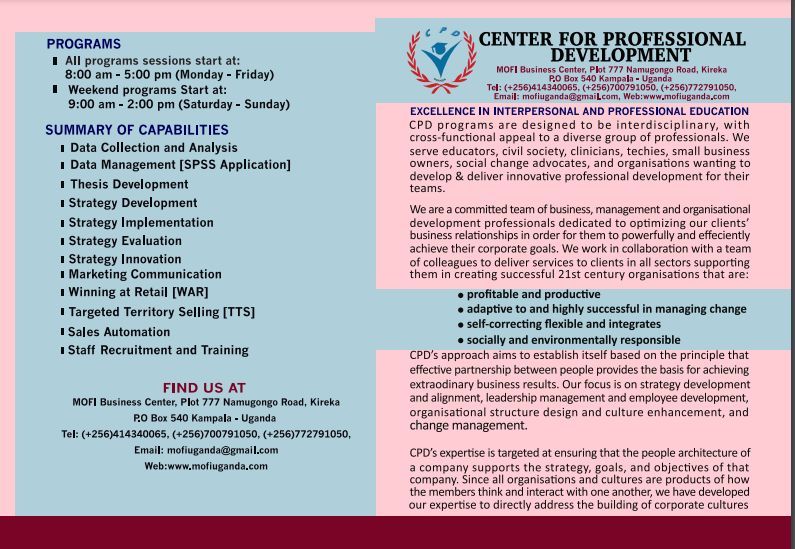 Check out our courses this year and if you would like to talk to us about your training and development needs, please feel free to contact me or the team. Feel free to down our brochure here:
Best Regards,
Dr. Martin Owako
Head of Programs and Training
Center for Professional Development.